Last night over forty local teachers and researchers took part in MIT's Teaching Systems Lab (TSL) Playtest. The idea is for teachers and researchers to work with games and new teaching materials, providing feedback on what works and what might have missed the mark.
Justin Reich, Associate Director of TSL, spoke to the participants before the test. Reich stressed the importance of honest feedback with the tests so the games can be improved and eventually scaled to classrooms. "We're MIT, we thrive on making mistakes and then making things better," he said.
The playtest takes place at MIT's Open Learning offices and allows education enthusiasts the opportunity to interact with tools for teachers. During this playtest, four different learning games were tested: Classroom Support; Geometry Puzzles; Teaching Deep Learning; and ELK (Elicit Learning Knowledge). Participants are separated into groups where they are allowed to play and interact with each game, with the entire group coming together at the end of the tests for a bite to eat and a lively discussion on what they thought of each game and how TSL might improve upon their current format.
Philip Tan, the creative director for the MIT Game Lab, helped create the Geometry Puzzles. The puzzles are meant to assemble 3-D shapes into shaped examples on a provided page. He admits before participants start that the interface might be frustrating, but that's part of what the playtest is about. "We know you won't like part of this test, but we want you to think about ways you'd make it better."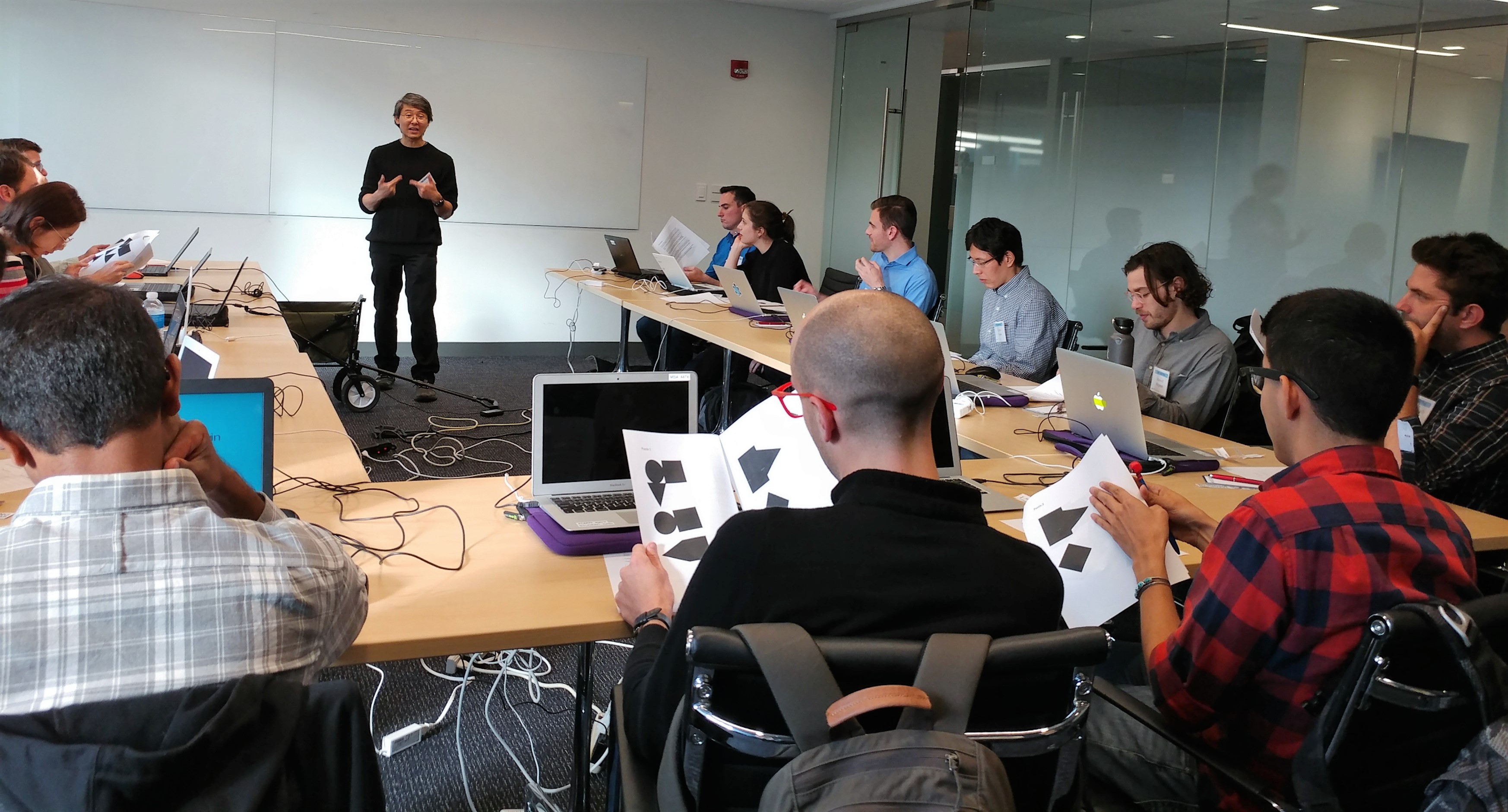 Christine Dowling from the Advent School is a fourth grade teacher, she came to the playtest because she's interested in integrating STEM education to keep her students engaged. "From what I saw on their site, it seemed like something that would be helpful in my classrooms." Dowling, who is in her sixth year of teaching is participating in her first TSL playtest.
Moyuru Yamada, a visiting scientist from Japan and a member of the Brain and Cognitive Sciences Department at MIT, added "I'm interested in prioritizing teaching and coaching. Particularly in Japan expert learning is decreasing in every subject. As a researcher and parent of a young child, I'm hoping to make education easier to tailor to various learning styles and levels."
Reich believes that much of what students learn is learned not in the classroom but in the clubs and teams they join. "If you ask students about their most powerful learning experiences, often students will talk about their learning on the periphery of the curriculum: what they learned on a debate team, or a robotics club, or in a musical ensemble." Adding learning games to the classroom is a way to replicate that teamwork and pride in working together toward a common goal. Instead of working toward a championship or a perfect concert students in the classroom are working toward better education.
The MIT Teaching Systems Lab has an ambitious mission: Preparing teachers for the classrooms of the future through research and design. That mission is put to the test by introducing experts to real-world learning and collecting feedback. If you'd like to take part in the next TSL Playtest, join them on Wednesday, November 14 on the MIT campus. To learn more and to register, visit the TSL website.