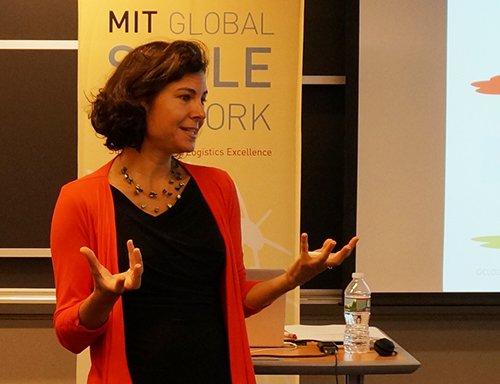 Eva Ponce is the Executive Director of the Supply Chain Management MITx MicroMasters Program as well as a Research Scientist at the MIT Center for Transportation & Logistics. She oversees the five online MITx courses in Supply Chain Management (CTL.SCx courses) that make up the MicroMasters Program. The courses are attended by tens of thousands of students in open enrollment from more than 180 countries. Her current research focus is the design of urban distribution models (freight deliveries) with special emphasis on omnichannel distribution strategies and e-commerce. She also leads research initiatives on Reverse Logistics and Closed-Loop Supply Chains.
Dr. Ponce has over eighteen years of experience in teaching and research in supply chain management and quantitative models for industrial engineering. In 2008, she received her tenure as an Associate Professor in Supply Chain Management and Logistics at the School of Industrial Engineering of the Universidad Politécnica de Madrid (UPM).
Dr. Ponce and her team at MIT are currently researching ways to introduce interventions into online learning that will keep learners interested and engaged throughout the full online course. Their research could have broad implications for online learning platforms such as edX who provide free MOOCs with low completion rates.
The MicroMasters program has been fairly successful in its short run. How is a MicroMasters Program different than a MOOC?
One of the most important differences is the assessment. Our MicroMasters program is a standalone credential, but also a pathway for credit towards a master's degree at MIT. Other universities across the world are also recognizing the MicroMasters Credential in SCM as a pathway of credit toward a master's degree. That's why the MicroMasters requires a more rigorous assessment protocol.
Secondly, the MITx MicroMasters in SCM is designed to be a standalone program of interconnected MOOCs, which covers learning objectives equivalent to one full semester of work on campus. The program is a learning journey in supply chain management, starting with quantitative and analytical topics and gradually transitioning to more strategic ones.
Finally, completion of a MicroMasters program requires a stronger commitment and effort than what is needed to complete just one MOOC. Students spend on average 15 to 18 months to complete the five online courses in sequence. They need to dedicate eight to ten hours per week per course during the 8 weeks of content. Discipline, dedication, and grit are some of the things that our MicroMasters credential-holders have demonstrated. Dr. Chris Caplice and I are currently working to better understand learners' behavior and motivation to increase program retention.
Previous studies show that only a small proportion of MOOC participants complete their courses. Did you identify a similar pattern?
We have found that verified learners (who paid a small verification fee) demonstrate higher course engagement, have higher retention rates, and achieve higher scores than audit (free) learners. We have categorized registrants to our courses into four distinct groups: "Learners" (who watch lesson videos and complete the work for a grade), "Voyeurs" (who watch lesson videos, but do not complete any work for a grade), "Magicians" (who do not watch any lesson videos, but miraculously complete some work for a grade), and "Zombies" (who neither watch videos nor complete any graded work).  For verified students, we have found across our SCx courses that on average 85% are Learners, 10% are Voyeurs, and 5% are Zombies.  For auditing students, however, these numbers are flipped with 5% Learners, 25% Voyeurs, and 70% Zombies! This is why we are investing in continued research to increase retention in our courses. As an example, Dr. Borrella and Dr. Caballero along with Connor Makowski, our Digital Learning Lead, are developing a prediction model to estimate learner dropout rates based on student behavior in MOOCs. The whole team is working in designing interventions to increase retention through our SCx courses. Our main goal is to convert zombies into learners!
What future challenges do you see for online learning going forward?
Online learning has the potential to transform the way education is delivered worldwide. But, if universities are going to recognize credit for online courses, rigorous assessments are a must.  The main challenge I have faced during the development and delivery of this program has been related to the implementation of a rigorous assessment procedure within a MOOC delivery platform that was originally designed for learning. We have made a lot of progress here, offering among other things, timed and proctored exams.
Online learning can be very convenient and highly rewarding, but also a lonely experience. Offering appropriate spaces in online courses to foster and encourage social interaction should be a priority. Findings from our literature review and our own experience running the courses indicate that collaboration and interaction with peers and staff is a relevant factor in improving learners' engagement in online courses. We currently offer forums that allow learners to post their questions and comments. However, a better way to organize the discussions and facilitate them, might encourage more participation and engagement with peers and the learning material.
Finally, I believe that providing an excellent service level really differentiates one educational product from another. However, to provide a high-touch experience in a massive online environment is a challenge. We need staff for that. Supporting a MOOC takes a village! Managing the trade-offs between offering a superior service level and personalization, and providing a standard service that is scalable is an ongoing challenge.
What is your favorite thing about working at MIT?
My favorite thing about working at MIT is its people. Both my students and my colleagues inspire me! I have the privilege to work with an exceptional group of professionals, strongly committed to this program. The Director of this program, Dr. Chris Caplice is not only one of the best instructors in online education, he is the 'mastermind' of this program and truly an example for all of us. Professor Yossi Sheffi, the Director of MIT CTL, envisioned the program and brought it to reality within the organization at MIT. I truly enjoy the "micro entrepreneurial system" that we have in our corner of the third floor of the MIT E40 building! This is a real startup. Tons of new ideas are boiling over here every day. What really matters to us is to provide the best learning experience to our students, no matter how much effort it takes. This is a conviction shared by our course leads (Alex, Alexis, Dave, Inma, Sergio, and Sina) and our teaching assistants (Bilal and Andrea). I love when staff come to my office with a new idea to improve our courses. We all love to learn and to teach. This program brings us the opportunity to learn from an amazing group of learners from all around the world. Our community manager, Arthur Grau continuously brings user feedback, new ideas and positive energy to this group. This shared motivation and passion encourages me to continue with this program every day!