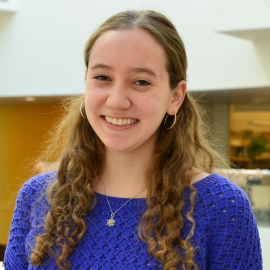 Halie is a graduate student in the Brain and Cognitive Sciences program at MIT. She is interested in how early life experiences and environments impact brain development, particularly in the context of reading and language, and in turn what this means for children's educational outcomes. She is excited to research how early experiences shape kids' brains, and she hopes that we can use this knowledge to figure out the best ways to support each student.
Halie graduated from Harvard University in 2017 with a B.A. in Neurobiology. You can read her 'Ask the Brain' piece on rewiring your brain here. She's also an avid runner and plans to run a marathon each year of graduate school.  
When did you first become interested in brain development and educational outcomes?  
A college linguistics class got me hooked on the brain – we were learning about the neural bases of language, and I thought it was so cool. In particular, I was intrigued by how the brain develops in order to support learning of something as complex as language, and later, how the brain changes to support literacy acquisition. Meanwhile, outside the classroom I taught and mentored elementary school children from the Boston community. Even with my limited experience in an educational setting, it was clear that kids came into the classroom with an array of strengths and areas they needed more support in – and I wondered whether what I was learning about brain development might inform how we think about these differences. It turns out there are quite a lot of researchers thinking about very similar questions! Once I found my way into developmental cognitive neuroscience research, I never turned back.
What impact do you hope your research will have on early childhood literacy and language development?
I'm really interested in research that focuses on individual differences in brain development – that is, what differs about how my brain responds to something compared to how your brain responds to that same thing? If we find reliable individual differences in brain structure or function that tell us something about how a child may respond to, say, the demands of learning to read (which can be a really hard thing!), we might be better able to help that child through a targeted intervention that's right for them. There's a long way to go on this front, but I'm excited about working in this direction to help all children get the support they need to succeed in the classroom.
You have a very promising future ahead of you, what is your dream job and why?
I would love to have a career that involves both research and teaching, so I hope to stay in academia. Having an academic career would allow me to continue learning and asking questions every day, and hopefully providing parents and educators with knowledge to support all learners – what's better than that?
What is your favorite thing about working at MIT?
That's an easy one – the people here at MIT are fantastic to work with. I am constantly being challenged to think about my ideas and data in new ways, learning about new tools, and being exposed to cutting-edge research from cutting-edge researchers. My colleagues are just as excited to learn about the brain as I am, so it makes coming to work each day really fun and exciting.